I just came upon this interesting piece on inaccurate 'history' in films and TV.
https://www.theguardian.com/commentisfree/2019/jan/26/history-vice-uncivil-war-dick-cheney
But the piece itself gets at least one point wrong:
"I am sure the distant past can look after itself. Peddlers of fake history always cite Shakespeare's Richard III as their template. We should note that it took three centuries for historians to rescue Richard from that hatchet job."
It has to be said that it's 534 years and counting … while 'historians' still basically draw on Shakespeare's version and credit Thomas More's fiction as 'true', there's still a very long way to go before King Richard is fully rescued.
The piece also says:
"Film-makers claim that everyone knows they make things up. I am not sure everyone does."
Rarely was a truer word spoken… And sad to say this was very much reflected in some of the reporting even in the Guardian itself during the run up to King Richard's reinterment. Comments from members of the public and figures in authority were often informed by their knowledge of Shakespeare, and not always rebutted by the journalists. When David Starkey can get away with calling Philippa Langley and others 'Ricardian loons' on national television and Julian Fellows isn't challenged by the presenter when he claims that the discovery of Richard's grave 'proved Shakespeare right', it shows that as Ricardians, we still have a very long road ahead of us.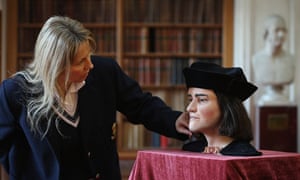 And one, I have to say, in which a decent film or television drama based on the facts about Richard that we do know to be true – and a realistic and humane interpretation of those that are more open to interpretation – could have a very large role to play. It's a shame that film-makers feel they have to rely on the sensationalism of Shakespeare's fiction – which still informs so much of what people think they know about history, not just of Richard – when the reality itself is just as fascinating, dramatic, colourful, blood-thirsty, emotional, tragic, etc.
The film of Philippa Langley's screenplay can't come soon enough for this Ricardian.
In the meantime, of course, my own works are available for optioning should any film-maker be interested 😉
mybook.to/WhiteBoar & mybook.to/TheKingsMan