On Wednesday I was fortunate enough to be invited to visit The Wensleydale School in Leyburn, just a couple of miles from Middleham Castle.
Never one to turn down an opportunity to visit King Richard's own country – or indeed a chance to bring his story to younger readers – I was delighted to accept, and spent the morning talking and reading from my books to three classes of Year 7s during their drama and/or English lessons.
In the first class it was lovely to see Gracie – a member of the Northern Dales Richard III Group, who bought The Order of the White Boar and The King's Man  at a group meeting at Barnard Castle back in January. Having enjoyed the books, she then lent them to her English teacher, Ms Lewis – who contacted me to arrange the visit.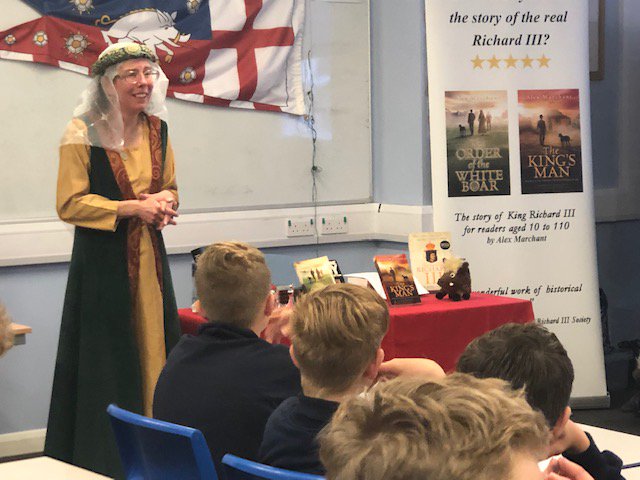 I spoke to the students about how King Richard was viewed as a good and just man during his lifetime, and how the later historical sources (about which they learn in their Year 7 history lessons) turned that view on its head – having, of course, been written under the rule of his enemies, the Tudors. They followed up with some fantastic questions – about my books, the characters who populate them, life as a writer, etc. Many thanks to all of them, and to Ms Lewis and her colleagues for hosting me. I hope I'll be able to take you up on your invitation to return in the future.
The 'business' of the day over, of course I wended my way along the road from Leyburn to Middleham itself, with glorious views along a very sunny Wensleydale, to visit the castle and church.
Finally dragging myself away from His Grace's old familiar haunts, I decided on the way home to visit (at last) West Tanfield and its Marmion tower. I'm so glad I did, as it's not just a lovely spot, but of course itself has connections to King Richard and his affinity. And the beautiful oriel window on the gatehouse reminded me strongly of a similar one at Barnard Castle…
The colours of the stone used to build the gatehouse are also remarkable – quite unlike any I've seen before. I doubt the photos really do them justice.
Next to the tower is the church, which as well as being home to some fine early fifteenth-century alabaster tombs, also boasts some fantastic carvings on the choir stalls (early twentieth century?), a couple of which wouldn't seem out of place in Central America!
All in all, a very enjoyable day – and with one or two ideas sparked for Book 3….